International activities at ShenyangInstitute of Engineering (SIE) aim at cultivating a global perspective inteaching, research and social services. SIE encourages and coordinatesinternational activities across the entire organization. It elaborates to makeinternational dimension as an essential part of its identity.
Current status: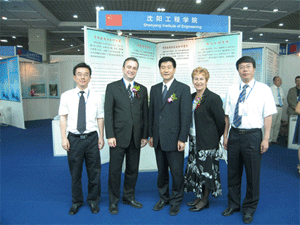 The international activities can be subdivided
into five categories:
◆faculty studyingabroad;
◆studentsinternational exchange;
◆Internationalinstructors and scholars at SIE;
◆Internationalcollaboration in research;
◆Joint educationalinstitutions between SIE and foreign universities
SIE is pursuing the following objectives toestablish the University as a global presence:
◆Encourage students toinclude study abroad in their educational plans;
◆Encourage facultymembers to pursue their research, teaching, and service interests within aglobal framework;
◆Plan curriculum sostudents become familiar with various cultural perspectives, encouraging themto explore subjects in that global framework;
◆Make available languageand cultural programs of quality, variety and depth, while integrating languageand cultural learning with the rest of that curriculum;
◆Invite internationalscholars to participate in research at the University and facilitate theirstays;
◆Engage in programsabroad that further the internationalization of the University's generalmission; and
◆Promote integration andcoordination of international resources across the University, whileencouraging their expansion.